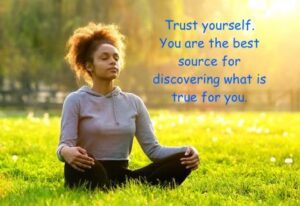 How many times in your life can you recall that you were not telling the truth to yourself or someone was not telling the truth to you?   When we don't speak the truth it brings suffering not only to ourselves but to those who are receiving it.  I am of course not speaking of those little white lies everyone tells at some time or another, I am speaking of the ones we create because we're too afraid to tell the truth out of fear. ​
Can you recall specific situations in your life where you decided not to tell the truth ?  If you take the time to inquire why you told a lie in the first place, you might discover there was some form of fear attached to it.
The  fear could be that if you tell the truth your life circumstances may change or you may see an aspect of yourself you are not ready to deal with. The choice then becomes to stay in denial of what is.  If you want to be free of any lie make a conscious decision to STOP telling lies and simply be free by telling  the truth.
When we tell lies it keeps us from celebrating who we really are and we cannot begin to know how our lie impacts other people's lives . Many people are very intuitive and can sense when someone is not telling the truth.  Although we may not like hearing a particular truth, it is much more acceptable than being told a lie. Lying brings up many emotions when someone tells us a lie, such as deceit, anger, resentment.   If you recall times when you didn't tell the truth or someone was not telling you the truth you might notice there was some form of suffering involved.
When we tell the truth it allows others to make choices based on the truth but when we make decisions based on lies it changes lives and usually not in a positive way.
Sometimes we don't tell the truth because we don't want to hurt someone's feelings, but there is always a way, to tell the truth with compassion and kindness.
Ask yourself are you willing to stand up and honour yourself by always telling the truth, no matter what? Pay attention next time you tell a lie and do some investigation as to why you told the lie in the first place and more importantly, make a conscious decision to STOP telling lies from this moment forward.
There appears to be a belief system that if you tell the truth about who you are you will not be loved or accepted.  And the truth is, some people may choose not to be part of your life as a result of speaking YOUR truth. It's good to remember your truth is not necessarily someone else's truth, but you can always live in freedom when telling the truth.
The following was written by Marianne Williamson it's one of my favourites, see if it resonates with you.
Our Deepest Fear
Our deepest fear is not that we are inadequate.
Our deepest fear is that we are powerful beyond measure.
It is our light, not our darkness, that most frightens us.
We ask ourselves, who am I to be brilliant,
gorgeous, talented, fabulous?
Actually, who are you not to be?
You are a child of God.
Your playing small does not serve the world.
There is nothing enlightened about shrinking
so that other people won't feel insecure around you.
We are all meant to shine, as children do.
We were born to make manifest
the glory of God that is within us.
It's not just in some of us; it is in everyone.
And as we let our own light shine,
we unconsciously give other people
permission to do the same.
As we are liberated from our own fear,
our presence automatically liberates others.